Would you like to?
You are in the right place!
You can be a part of…
Online Art Courses – are amazing!
People learn faster. With recorded lessons, students can watch them anytime they want. Up in the middle of the night? Your lessons are there. Need to have something repeated? Easy. Watch the video lesson as many times as you want to. Convenience is a big part of what we do here.
Plus – it's interactive! You are not in this alone, your instructor is accessible. In courses there are Zooms with Cheryl for getting all your questions answered. Guided and focused practice can increase both your painting skills and your enjoyment in painting.
People make new art friends on our website on Mighty Networks. That means you can post your art work (if you want) and comment on the work of others. Be assured – artists are an encouraging bunch. In my courses and painting membership we consistently cheer each other on.
No need for perfection – you are here to learn and no one expects your paintings to be perfect! Heck no. This is a journey shared and NOT a competition.
Really, I could not have imagined how well this works. I love it. And, nice bonus, no more lugging heavy paints to class, or fussing about the weather.
Beginners: Have you always wanted to explore painting but don't know how to start? This is a friendly place with lessons designed to be fun, creative. Grow your skills in hands on lessons with focused goals.
Intermediate Painters: There are lots of different creative options for you to enjoy while growing your art skills.
Intermediate & Advanced Painters: something is in the works just for you.
Here's the scoop for everyone…
Kristan F. – Ottawa Canada
What's happening & what's coming up

(Click each title for lots more info)
Foundations to Great Painting – Registration is open now! For beginning (even brand new) and intermediate painters. A clearly presented foundation in essential concepts for painters including best practices in paint handling. Very hands on as you work through the weekly assignments.  Starts Jan 10/22 for 4 weeks. (last day Feb 4/22) Current Bonus: register for this course and receive the Video Bundle – All About Art Supplies (listed below) free!
Video Bundle: All About Art Supplies – Available now! (Or register for "Foundations to Great Art" and get this $47. bundle for free.) 4 videos with lots of information: about paint in all 3 media: watercolour, acrylic, and oil; what's good in paint and what's not so good. Plus info about brushes, supports (canvas or watercolour paper) and palettes. Shop with confidence for your art supplies. No more frustration with inferior materials.
Drawing for Painters – Registration is open now! Every weekday there are 30 minutes of creative drawing exercises assigned. You bet this can impact your art in a wonderful way!  Starts Feb 7/22 for 10 weeks. We will take the week of March 13 to 19 off for March break. The last day of the course will be Apr 22/22.
The Painters Creative – a year round fun fellowship in an art membership. Monthly themes, weekly challenges, art book reviews, art movie reviews, monthly featured member, and lots of interaction as you post your work and comment on others'. The Painters Creative opens for new members just a few times per year – watch the Tuesday art newsletters to know when.
Colour and Composition – This fall course runs for 10 weeks. Grow your art faster with the important concepts, charts and hands on assignments covered in this course. Will run again in the fall of 2022.
In the works – Next Level: An Art Critique Course – an 8 week critique course to help you define and focus on your own personal art goals in order to reach the next level in your own unique style of painting. No clones over here. This one is all about YOU. Hoping to have this available early 2022. Enrollment will be limited to just 12 participants.
Make sure you are getting Cheryl O's Tuesday morning art newsletters to know what's coming up. It's been great to transition to online and I hope to see you here!
"You make everyone feel very good about their work, plus if we ask for help, you are right there." Christa I.
| | |
| --- | --- |
| Yvonne C. – London Canada | Kaitlyn J. – London Canada |
"I have taken art classes with Cheryl O for several years.  She is an honest, sincere individual with so much knowledge to impart and she does so freely and without reservation. The time and effort she puts into the course work is considerable, as are the rewards for the members." Fiona, London ON Canada
About Your Instructor…
Cheryl O has been teaching adults to paint and draw for 25 years. You can check out her unique approach to art courses in this video.
"You have such a wonderful gift for breaking down the progressive skills to tackle… It's empowering!" Marian S.
"Although I am a beginner, Cheryl's approach to teaching made it easy for me to learn." Eleanor B. London Canada
| | |
| --- | --- |
| Sandi M. – London Canada | Joyce P. – Kitchener Canada |
"I find this whole group super supportive and lots of fun." Nancy M.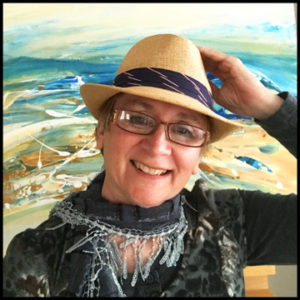 Be the first to know…
The very best way for you to keep in touch with what is coming up, including when The Painters Creative comes open for new members, is to sign up for Tuesday Art News Emails. They contain art tips and techniques, fun quotes and other creative inspiration. I respect your privacy and each has an easy unsubscribe button at the bottom. Here is where to sign up for the art newsletter: Cheryl O's Art Newsletter
Helping you to grow your art in a variety of hands on, fun and creative formats. Hope to see you there!
Cheryl O