Would you like to learn to paint – or learn to paint better?
You are in the right place!
You can be a part of…
Guided and focused hands-on assignments grow your skills faster.
Lessons you can watch anytime. Convenient is what we do.
Cheryl teaches art concepts such as colour mixing, composition, creating depth, and more. So much more than, for example, 'how to paint a flower' videos. Once you learn the concepts through hands on practice paintings, you can apply them to any subject you want.
With a good foundation in painting concepts, you can develop your own unique painting style. No clones over here.
Inspiration to keep the brush moving in an interactive supportive art community with The Painters Creative. We encourage each other to paint more often.
Westminster Ponds by Cheryl O
Art Competition at 100 Kellogg Lane
The Art Comp exhibition at 100 Kellogg Lane in London ON will be open to the public to view from May 28th to September 4th, 2022. From almost 900 submissions, 100 works of art were accepted – including the painting below by Cheryl. Two of these 100 will each be awarded $100,000 in September – one by jury and one by People's choice. You can see the 100 paintings online and one vote is allowed per email. You can vote today online!
Click here to register to vote (you will need to register with an email address and name) and to view all the paintings in the competition.
Cheryl O at the 100 Kellogg Lane Art Competition with her painting "Loving the Journey"
Learning to Paint Should be Hands-On & Creative:

(Click each title for more info)
The following will be made available as downloadable courses that you work through on your own.
  For beginning (even brand new) and intermediate painters. A clearly presented foundation in essential concepts for painters including best practices in paint handling. Hands on as you work through the weekly assignments. Sign up for Cheryl's Weekly Art Newsletter to know when this course will be available again.
  Available now! 4 videos with lots of information: about paint in all 3 media: watercolour, acrylic, and oil; what's good in paint and what's not so good. Plus info about brushes, supports (canvas or watercolour paper) and palettes. Shop with confidence for your art supplies. No more frustration with inferior materials.
  Every weekday there are 30 minutes of creative drawing exercises assigned. You bet this can impact your art in a wonderful way!  Targeting September for this course to be available as a downloadable work-through-at-your-own-pace course.
  Targeting 2023 for this 10 week course. Grow your art faster with the important concepts, charts and the hands on assignments covered in this course. Planned to be available early 2023.
The following are interactive opportunities on Mighty Networks. This online platform allows for members or students to post their art work and receive input from Cheryl about their work, to mention just some of the creative interaction that happens here.
    A year round fun fellowship in an art membership. Monthly themes, weekly challenges, art book reviews, art movie reviews, monthly featured member, and lots of interaction as you post your work and comment on others'. The Painters Creative opens for new members just a few times per year. Next planned opportunity for new members is September 2022.
   For advanced and intermediate students. (Send an email to Cheryl if you are wondering if you qualify.) A 6 week critique course to help you define and focus on your own personal art goals in order to reach the next level in your own unique painting style. This one is all about YOU. Student will get detailed critiques to encourage and help them focus on areas of individual strengths and weaknesses in this intensive course. Plan 1 to 2 hours per weekday to participate in this course. Landscape paintings are used to teach the main concepts, and students may supplement with references of other subjects if they wish. Watch the Tuesday art newsletters to know when this course comes open next.
The Women's Painting Retreat is the only live teaching venue that Cheryl has planned for now.
Registration is now closed for 2022. Check back in early 2023 for information about the next painting retreat.
Don't miss the newsletter – it's free.
  Make sure you are getting Cheryl O's Tuesday morning art newsletters for free art tips and techniques and to know what's coming open next!
"You make everyone feel very good about their work…" Christa I.
| | |
| --- | --- |
| Yvonne C. – London Canada | Kaitlyn J. – London Canada |
"Cheryl is an honest, sincere individual with so much knowledge to impart and she does so freely and without reservation. The time and effort she puts into the course work is considerable, as are the rewards for the members." Fiona S.
About Your Instructor…
Cheryl O has been teaching adults to paint and draw for 25 years. You can check out her unique approach to art courses in this video.
"You have such a wonderful gift for breaking down the progressive skills to tackle… It's empowering!" Marian S.
"Although I am a beginner, Cheryl's approach to teaching made it easy for me to learn." Eleanor B. London Canada
"I find this whole group [Painters Creative] super supportive and lots of fun." Nancy M.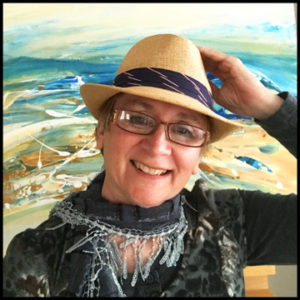 Be the first to know…
The very best way for you to keep in touch with what is coming up, including when The Painters Creative comes open for new members, is to sign up for Tuesday Art News Emails. They contain art tips and techniques, fun quotes and other creative inspiration. I respect your privacy and each has an easy unsubscribe button at the bottom. Here is where to sign up for the art newsletter:
Helping you to grow your art in a variety of hands on, fun and creative formats. Hope to see you there!
Cheryl O