Would you like to learn to paint – or learn to paint better?
You are in the right place!
In Person One Week Courses
London, Ontario
Cheryl teaches art concepts such as colour mixing, composition, creating depth, and more. Once you learn the concepts through hands on practice paintings, you can apply them to any subject you want.
With a good foundation in painting concepts, you can develop your own unique painting style. No clones over here.
"Although I am a beginner, Cheryl's approach to teaching made it easy for me to learn."
― Eleanor B.
Flowers & Glass


Dates: Monday, July 24th to Friday, July 28th

Lots of tips and techniques for creating beautiful paintings with flowers, glass, or even crystal. Cheryl will give out new references to guide you through, or you have the options of working from your own references or even from your own flowers if you want to bring some in. From the beauty of single flowers to the charm of bouquets in glass, this course is for flower lovers. Tell me more!

Dynamic Landscapes


Dates: Monday, August 21st to Friday, August 25th

Tips and techniques to add unusual colours and shapes to create a more dynamic landscape painting. You will start by working through one of Cheryl's landscapes, and each day Cheryl will demonstrate examples of fields, trees, or buildings. Plan to work from your own landscape photos from near or far, during most of this course. Tell me more!
"You make everyone feel very good about their work…"
― Christa I.
About Your Instructor…
Check out lots of Cheryl's paintings in this short video.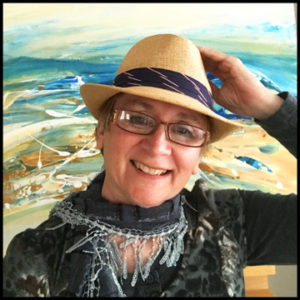 Be the first to know…
The very best way for you to keep in touch with what is coming up, including when The Painters Creative comes open for new members, is to sign up for Tuesday Art News Emails. They contain art tips and techniques, fun quotes and other creative inspiration. I respect your privacy and each has an easy unsubscribe button at the bottom. Here is where to sign up for the art newsletter:
Helping you to grow your art in a variety of hands on, fun and creative formats. Hope to see you there!
Cheryl O