Would you like to?
You are in the right place!
You can be a part of…
Switching to online was a big deal for all of us. And, surprise, we absolutely love it! In a private interactive web space on Mighty Networks – no noisy advertisements in there, yay! – students are focused and growing their skills. Plus, they are having lots of fun posting their work and commenting on the work of others.
Online Art Courses with Cheryl O
"You make everyone feel very good about their work, plus if we ask for help, you are right there." Christa I.
| | |
| --- | --- |
| Yvonne C. – London Canada | Kaitlyn J. – London Canada |
You may want to know…
Cheryl has been teaching adults to paint and draw for 25 years. You can check out her unique approach to art courses in this video.
"You have such a wonderful gift for breaking down the progressive skills to tackle… It's empowering!" Marian S.

These 4 videos aim to give you everything you need to know to about art supplies. Info about brushes: brush handling, brush care. Info about paint in all 3 media: watercolour, acrylic, and oil; what's good in paint and what's not so good. Info about painting surfaces: types of watercolour paper and types of canvas. Info about palettes. This video package is packed with practical information to get you off to a happy confident start.
"Although I am a beginner, Cheryl's approach to teaching made it easy for me to learn." Eleanor B.
Key word for this group is 'encouragement'. We encourage each other to paint more often with creative monthly themes, weekly challenges, and daily interaction on the private web space. Intermediate painters (which actually includes a wide range of abilities) in all media welcome: watercolour, acrylic, and oil. This membership opens for new members just a few times per year. Getting the newsletters helps make sure that you know about the next opportunity to join us. We would love to welcome you there and inspire you to have more fun with your paint. Here's more information:
| | |
| --- | --- |
| Sandi M. – London Canada | Joyce P. – Kitchener Canada |
Kristan F. – Ottawa Canada
"I find this whole group super supportive and lots of fun." Nancy M.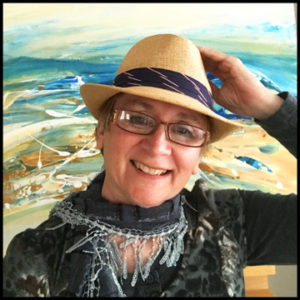 Be the first to know…
The very best way for you to keep in touch with what is coming up, is to sign up for Tuesday Art News Emails. They contain art tips and techniques, fun quotes and other creative inspiration. I respect your privacy and each has an easy unsubscribe button at the bottom. Here is where to access the newsletter: Sign Up for Cheryl O's Art Newsletter
Helping you to grow your art, in a variety of fun and creative formats. Hope to see you there!
Cheryl O